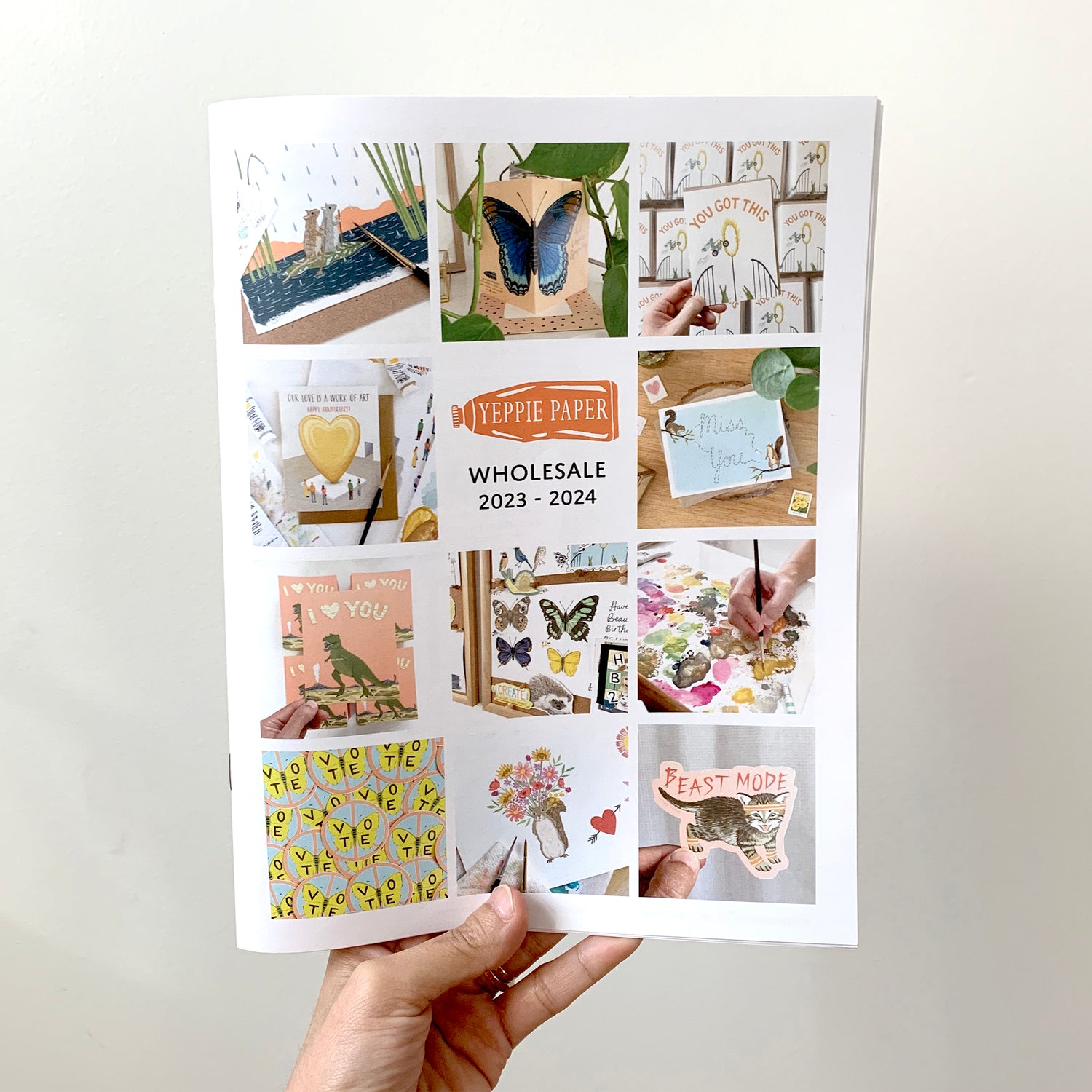 Welcome to Yeppie Paper Wholesale!
Click on the links below to view our latest catalog & sell sheets.
Wholesale Catalog (updated October 2023)
October 2023 New Release Sell Sheet
---
Minimum Opening Order: $150
Minimum Re-Order: $100
Turnaround Time: We typically ship within 3-5 business days from receipt of an order for in-stock items. But if you're in a rush, we've been known to be "super speedy"... just ask and we'll try our best to accomodate!
Three Ways to Order Wholesale from Yeppie Paper
Yeppie Paper x Faire

Shop our entire line on Faire by clicking here or on the image below!
Find a Sales Rep Near You
Order From Us Directly

We'd love to hear from you! Please contact us by filling out the form below, or you can send us an email directly to jim@yeppiepaper.com !
Wholesale Terms & Conditions
MINIMUM OPENING ORDER: $150
MINIMUM RE-ORDER: $100
MINIMUM ORDER QUANTITIES: Single Card - 6 Min / Boxed Sets - 3 Min / Notebooks - 4 Min / Stickers - 4 Min/ Gift Tag Sticker Sheet Sets - 3 Min
PAYMENT: All orders are payable by check made out to Yeppie Paper, or by any major credit card via Paypal. Payment will be processed at the time of shipment. Existing retailers may inquire about Net 30 terms.
TURNAROUND TIME & SHIPPING: We typically ship within 3-5 business days from receipt of the order for in-stock items. We will notify the retailer of any delays. Most orders will be shipped via USPS. If you have a preferred shipping method, please let us know! Shipping charges will be added to the invoice. We do not charge handling fees.
BACK ORDERS: Back ordered items will be indicated on the invoice. We will pay postage and ship back ordered items as soon as they become available. If you prefer to wait and wish to cancel any back orders, please let us know as soon as possible.
REFUNDS & CANCELLATIONS: Refunds and/or exchanges will only be allowed on incorrect or damaged goods. In such cases, products must be unused and returned with their original packaging and invoice within 7 days of their receipt. Cancellations not made within 24 hours of placing an order will incur a 20% restocking fee.
DISPLAY & PACKAGING: Boxed sets must not be broken up and must be displayed in their original packaging.